apilion machines + services GmbH – global technology leader in the manufacture of unique, fully automatic cage welding machines.
The apilion machine programme includes machines that are excellently suitable for the production of reinforcement cages
for reinforced concrete pipes, manholes, boxculverts, masts, piles, bored piles, pressure pipes, jacking pipes and other prefabricated concrete parts.
More than 300 machines and plants are in successful operation all over the globe.
To the full satisfaction of their owners.

expertise
in design
customized
solutions

professional project planning

efficient project management

worldwide
24/7 support
From Züblin to apilion: new name, same mission.
The team at apilion machines + services sees it as one of its tasks to continue the proud construction tradition for which our predecessor company, Züblin MAB, was known.
As the direct successor to the former Züblin Maschinen- und Anlagenbau GmbH, which has produced more than 300 machines since its foundation in 1957, Apilion offers customers all over the world machines and solutions that are precisely tailored to their needs and requirements.
The take-over of Züblin Maschinen- und Anlagenbau GmbH took place in 2011. Since then, the apilion company has developed into a respected successor to its predecessor, whose greatest potential lies in its employees. Their excellent technical expertise and many years of experience form an excellent basis for further growth.
apilion - world market leader in fully automatic cage welding machines
The apilion product range includes:
Cage welding machines
Mesh welding plants
Hoop welding machines
Mesh plants for the fabrication of cages for box culverts
Our background and extensive experience as the mechanical engineering department of Züblin Betonrohrwerke, enables us to offer our customers valuable support in the realization of their projects in the concrete pipe sector.
apilion also offers maintenance and service for machines from other branches. Contact us if you want to have your existing machines rebuilt or serviced by us, our competent specialists are available at attractive conditions.
Call us or send us an e-mail.
Our service staff will take care of your needs immediately.
The apilion service department is your competent contact. 7 hours a day. 7 days a week
Quality - Trust - Reputation
Meeting customers' needs and exceeding their expectations by delivering much more than they expect – that is our credo. Our customers and their ever-growing needs are our inspiration for action, and their satisfaction is our greatest priority.
That is why we place the utmost importance on the quality and timeliness of our services when implementing projects. Product solutions are refined until we are convinced that the proposed machine or plant is the best solution for the needs of the operation.






solid know-how • cost-efficient approach • unconventional thinking • technological foresight
Each large scale project is a new challenge to planning, logistics and efficiency, especially if it has to be realised in continents with extreme geological and climatic conditions. In this respect, apilion can rely on a lot of experience acquired world-wide by our specialists over the last decades. A mark of confidence established by us anew with each new contract.
Around the globe, apilion is actively involved in the realisation of ambitious development projects, spectacular buildings and plants. With technological farsightedness, a solid know-how and a good eye for economic dimensions. 
The desert lives on water. Wherever this elixir of life is lacking, concrete can be used…
to revive the desert. apilion provides the equipment to produce the necessary conduits by taking care of the complete planning, supply, installation and supervision of turn-key delivered manufacturing plants.
This large scale project was successfully completed in 1995, thus enabling the reclamation of 300,000 hectares of desert. The production of pre-stressed, half-circular concrete flumes with precast substructural elements and concrete pipes could be started in time. The planned output of 17 km per month for concrete flumes of DN 600 to DN 1800 and 2.4 km per month for reinforced concrete pipes were achieved even before the plant had been handed over and the training and instruction of the local staff had been finalised.
When it comes to building, the growth of Thailand is found for the most part on foundation piles, due to geological conditions. Continuing a long tradition of machine supply to Asia since the 1950`s, apilion supplied the main components for two pile plants in Thailand that started production in 1997. Driven concrete piles of diameters from 300 mm up to 800 mm and of lengths between 4 m to 16 m as well as screw piles of diameters 400 mm to 800 mm of lengths up to 28 m are being produced.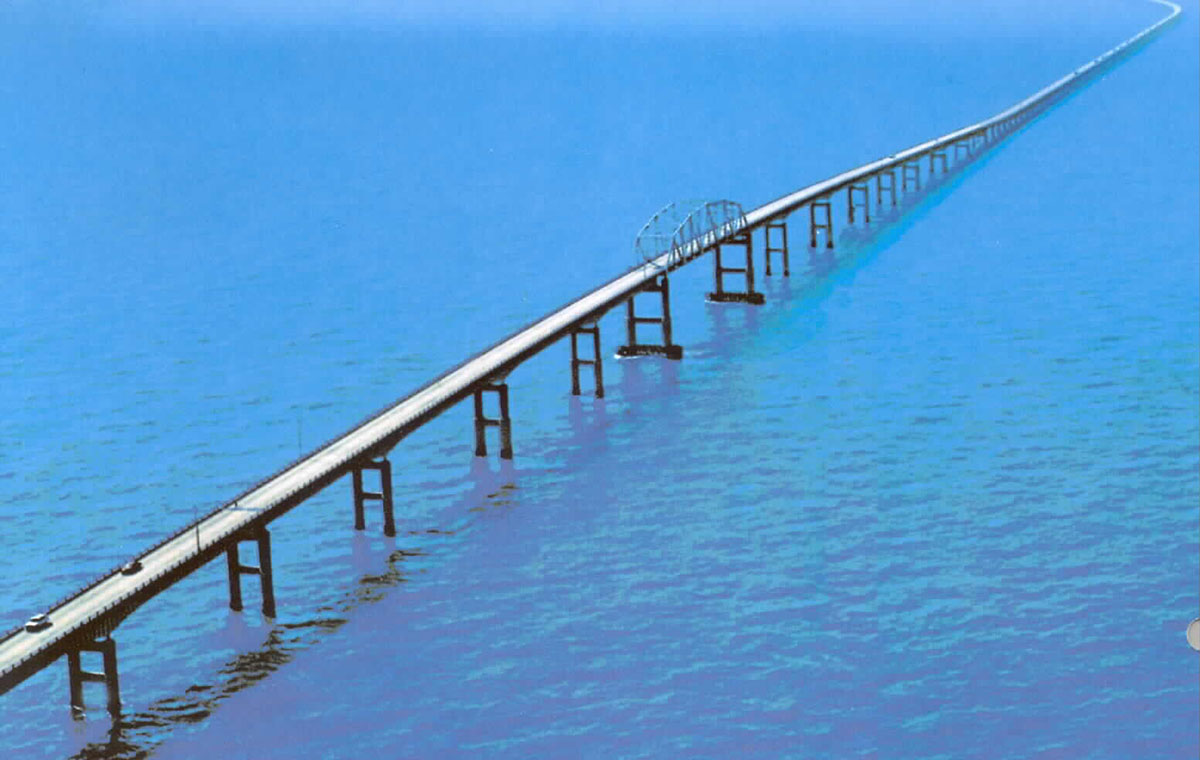 The Chesapeake Bay in USA
The successful bridging to new horizons…
is done by realistically transforming visions like the 17.6 mile Chesapeake Bay Bridge in the U.S. State of Virginia.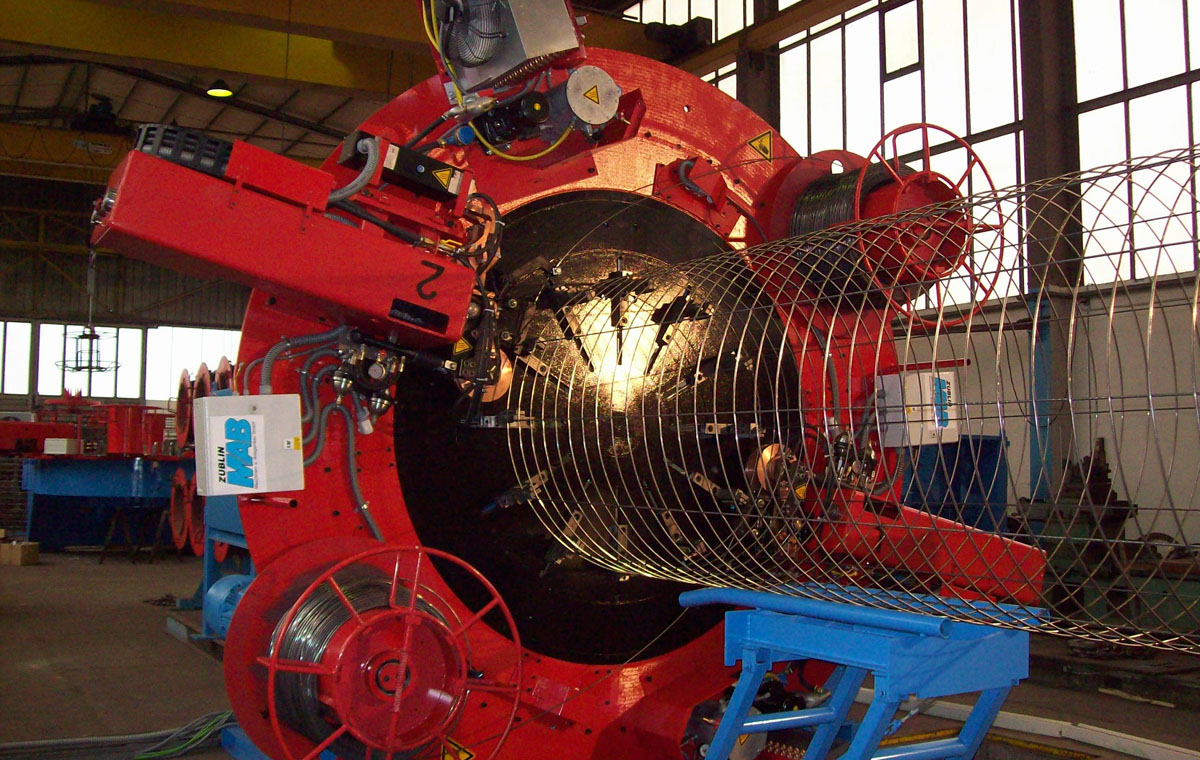 Our high output USM Duomat…


series welding machines equipped with two welding heads were in operation producing reinforcement for the concrete weight coated (CWC) pipes required for one of the largest construction projects in recent times, the Nord Stream natural gas pipeline through the Baltic Sea.
Cras a elit sit amet leo accumsan volutsudisse.